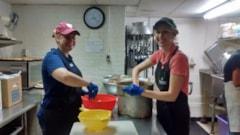 On August 5, 2022, the Cathedral Soup Kitchen will hold an event to raise funds to update the facility and to provide food and supplies. The event will honor the memory of Kenny Schutt, a long-time volunteer at the Cathedral Soup Kitchen and Beggars for the Poor. Suggested dress for the event is business casual.
Schedule of the Fundraising Event on August 5:
5:15 p.m.: Mass at SS. Peter & Paul Cathedral
6:00 p.m.: Tour of the Cathedral Soup Kitchen
7:00 p.m.: Dinner at the Archbishop Edward T. O'Meara Catholic Center, 1400 N. Meridian Street (diagonally across the street from the Cathedral)
The Cathedral Soup Kitehen serves more than 3,200 meals and provides food pantry items to 1,080 clients each month. Clients served at the kitchen Monday-Friday receive a hot meal and a sack lunch. Volunteers serve at nearby Roberts Park Methodist Church on Saturdays to provide food and clothing through the Beggars for the Poor ministry. On Sundays, volunteer groups from various parishes serve meals at the Cathedral Soup Kitchen.
We hope you will consider joining us for an evening to support Christ's universal call to feed the hungry, welcome the stranger, and clothe the naked. Individual tickets as well as sponsorships are available for purchase by mail using the following forms: Sponsorships | Tickets
Questions about this event can be directed to Jenny Matthews or Mary Ann Klein. We hope to see you there!