Official Announcements
Office of Worship shares guidance on Lenten liturgies during pandemic (February 5, 2021)
New website hopes to help and connect Catholics and parishes amid COVID crisis (November 14, 2020)
Dispensation for Sunday Mass extended until further notice (October 23, 2020)
Decree of the Apostolic Penitentiary on Plenary Indulgences for the Deceased Faithful in the Current Pandemic (October 23, 2020)
A statement from the five Indiana bishops on the dispensation from the obligation of Sunday Mass attendance (August 3, 2020)
Guidelines and Procedures for Public Mass at Saints Peter & Paul Cathedral (June 1, 2020)
Plan for Reopening of Churches and Resuming the Celebration of Public Sunday and Weekday Masses and the other Sacraments in the Archdiocese of Indianapolis (May 8, 2020)
Letter from Archbishop Charles C. Thompson on Reopening Churches (May 8, 2020)
Statement on the Resumption of Public Liturgies (May 6, 2020)
Moving Forward from Pandemic (May 1, 2020)
Avanzando desde la pandemia (May 1, 2020)
Easter 2020 Message of Archbishop Charles C. Thompson (April 10, 2020)
Mensaje de Pascua 2020 de Arzobispo Charles C. Thompson (April 10, 2020)
Closure of Churches is Necessary to Keep All Safe (April 6, 2020)
A Letter to the People of God: Supporting Charitable Works of the Church (April 3, 2020)
Sigamos siendo buenos representantes de la Iglesia en esta época de crisis (April 3, 2020)
In wake of coronavirus epidemic, Holy Week liturgies and Easter Sunday Mass to be livestreamed online (April 3, 2020)
Statement of the Archdiocese of Indianapolis Regarding Holy Week (March 24, 2020)
Statement on the Care of Souls and the Forgiveness of Sins During this Pandemic in the Archdiocese of Indianapolis (March 24, 2020)
Information on the Suspension of the Public Celebration of Mass and the Temporary Closure of the Archbishop Edward T. O'Meara Catholic Center and Agencies (March 17, 2020)
Declaración de la Arquidiócesis de Indianápolis sobre la suspensión de la celebración pública de la misa y el cierre temporal del Centro Católico Edward T. O'Meara y otras agencias (March 17, 2020)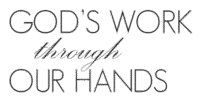 As a faithful Catholic community, first and foremost, we provide for the spiritual and pastoral needs of the faithful. Additionally, as members of the broader community, we are committed to participating in the larger response by our cities and state. The decision of Archbishop Thompson and all Indiana bishops to dispense Catholics from the obligation of attending Sunday Mass, as well as the canceling or curtailing of all other liturgical events and gatherings, was based on the CDC and state government guidelines.
We must continue to pray and support those most vulnerable – the poor, those with less stable employment, and parents who need to work and are unable to find childcare. In a special way, we want to support the elderly, sick and those who are homebound who may feel isolated and lonely. In the spirit of Lent, we must embrace the works of mercy with zeal and to practice a spirit of gratitude and generosity to others, whether it be using our time to pray, giving to our parish offertory, or donating to the United Catholic Appeal.
We are committed to continuing the good work of the Church and to provide a sense of calmness through our faith in Christ. We want to thank each of you for the many ways you support our mission, and ask that you please continue to financially support the work of our Church. Our parish is dependent upon your weekly financial gifts to continue its ministries in this critical time of crisis. Please use this time to transition to online giving using this link: www.archindy.org/Giving. Please select "SS. Peter & Paul Cathedral" from the dropdown list. Alternately, you may mail your weekly offertory donations to the parish. We thank you for your continued generosity during this challenging time.
Prayer Resources
COVID-19 Prayer Card from the United States Conference of Catholic Bishops (USCCB)
Decree of the Apostolic Penitentiary on the granting of special Indulgences to the faithful in the current pandemic (March 20, 2020)
Magnificat - Offering reduced-price access to online version during COVID-19 pandemic
Radio Masses
Catholic Radio Indy has several ways that you can hear Mass every day including Sundays during the Corona Virus situation. The Mass is heard live every day at 8 AM. No matter where you live, you can hear this Mass. If you live in or around Indianapolis, you can hear it at 89.1 FM. If you live in Hamilton County, you can hear it at 90.9 FM, or in Anderson, Indiana at 98.3 FM. According to Station Manager, Jim Ganley, during the current quarantine situation, they will also be airing a special Mass at 6 PM each evening during the crisis.
Even if you don't live in any of these areas, you can hear Catholic Radio Indy programming one of these ways. On your computer, you can hear live-streaming 24 hours a day at: www.CatholicRadioIndy.org. On your cellphone, you can simply dial 605-562-9822 and listen. The call is free if you have unlimited minutes on your cell plan. If you have a "Smart-Speaker" device, simply say, "Alexa, play Catholic Radio Indy."
Also, you can see and hear the Mass any day, at any time, on-demand 24 hours a day, courtesy of Catholic TV, if you go to www.CatholicRadioIndy.org and click on the Daily Mass link near the top of the website.
Streaming Masses
Daily Mass at SS. Peter and Paul Cathedral
The Criterion
Web Archives for 2020 Issues of The Criterion
Videos/Podcasts
"We're All in This Together" - A Message from Archishop Charles C. Thompson (August 31, 2020)
Archdiocesan Chrism Mass (June 29, 2020)
Legacy Gala 2020 Information + Save the Date Information for 2021 (June 25, 2020)
Archbishop Charles Thompson Salutes the Graduates of the Class of 2020 (June 1, 2020)
Class of 2020 Graduation Message from Gina Fleming and Archbishop Thompson (May 27, 2020)
Parish Meeting to Plan for Reopening (May 20, 2020)
Catholic Radio Indy Interview with Archbishop Charles C. Thompson (March 23, 2020)
Video message from Archbishop Charles C. Thompson (March 17, 2020)
Video message from Fr. Patrick Beidelman, Cathedral Rector (March 17, 2020)