Lenten Reflection Series at St. Mary Church
Fr. Pat & Deacon Nate will be offering a series of reflections each Thursday following the 5:15 p.m. Mass at St. Mary Church, from February 18 - March 25.
Stations of the Cross at SS. Peter and Paul Cathedral
Stations of the Cross will be offered each Friday following 5:15 p.m. Mass at SS. Peter and Paul Cathedral, from February 19 - March 26. If you are interested in leading stations, please contact Diana Hay at diana@ssppc.org or 317-634-4519.
Confession Schedule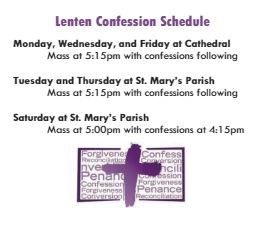 Virtual Lenten Book Series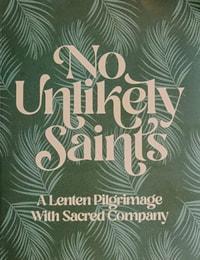 St. Mary's parish invites everyone to make a pilgrimage to the cross with seven extraordinary women and men of God. Come and journey with Blessed Sára Salkhaházi through Nazi-occupied Hungary, with Venerable Augustus Tolton through 19th century Illinois, with Dorothy Day, St. Martin de Porres, St. Oscar Romero and more. Anne Lustig will lead us in prayer, discussion and reflection in a virtual format on the book No Unlikely Saints. To register for this event, contact Maureen Riley at mriley@saintmarysindy.org or 317-292-5399.
Lenten Bulletin Inserts
Additional Resources
Archdiocese of Indianapolis Lenten Resources
Catholic Relief Services Rice Bowl
United States Conference of Catholic Bishops (USCCB) Lenten Resources
Walking with Christ: Scriptural Stations of the Cross - English/Spanish Podcasts - Archbishop Charles C. Thompson and more than 20 priests throughout the archdiocese will host the podcasts. They will be posted each Tuesday and Thursday during Lent 2021.